Enjoy my popular Snickerdoodle cookie recipe – they are the best no butter cookies and cookies without butter!
Last week I was craving some yummy cinnamon and sugar coated Snickerdoodle cookies like my grandparents used to make.
I was excited to make some when I discovered I was out of butter, one of the main ingredients in my recipe. Arggghh.
I'm a determined sort of gal so I scoured the web for a recipe for Snickerdoodle cookies without butter. It wasn't easy, but I eventually tracked one down!
I'm sharing my no butter adapted version with y'all below because they turned out so soft and delicious, you would never guess they are cookies without butter.
Turns out that Snickerdoodle cookies without butter might be even more delicious than those made with butter!
How To Make Cookies Without Butter
I'm trying to make more of our snack foods as opposed to buying them, both to save money and keep scary ingredients out of our house.
This has been my go-to cookie recipe for a while now and it is so much easier to make compared to other cookies since it is butter free.

If you are wondering how to make cookies without butter, you'll be happy to know that you make them just like any other Snickerdoodle cookie.
You mix up the dough, roll it into a ball in your hand, coat it in cinnamon sugar, and bake.
The only challenge to making cookies with oil instead of butter is that they might flatten out too much if you place them on a hot pan.
My suggestion is to use a cool pan each time. This will help your cookies keep their shape and not flatten out!
No Butter Snickerdoodles Tips & Tricks
I bake ALL of my cookies on a silicone baking mat like this one from Target.
I'll never go back to dirty pans or parchment paper again. My silicone baking mat might be my most-loved kitchen item.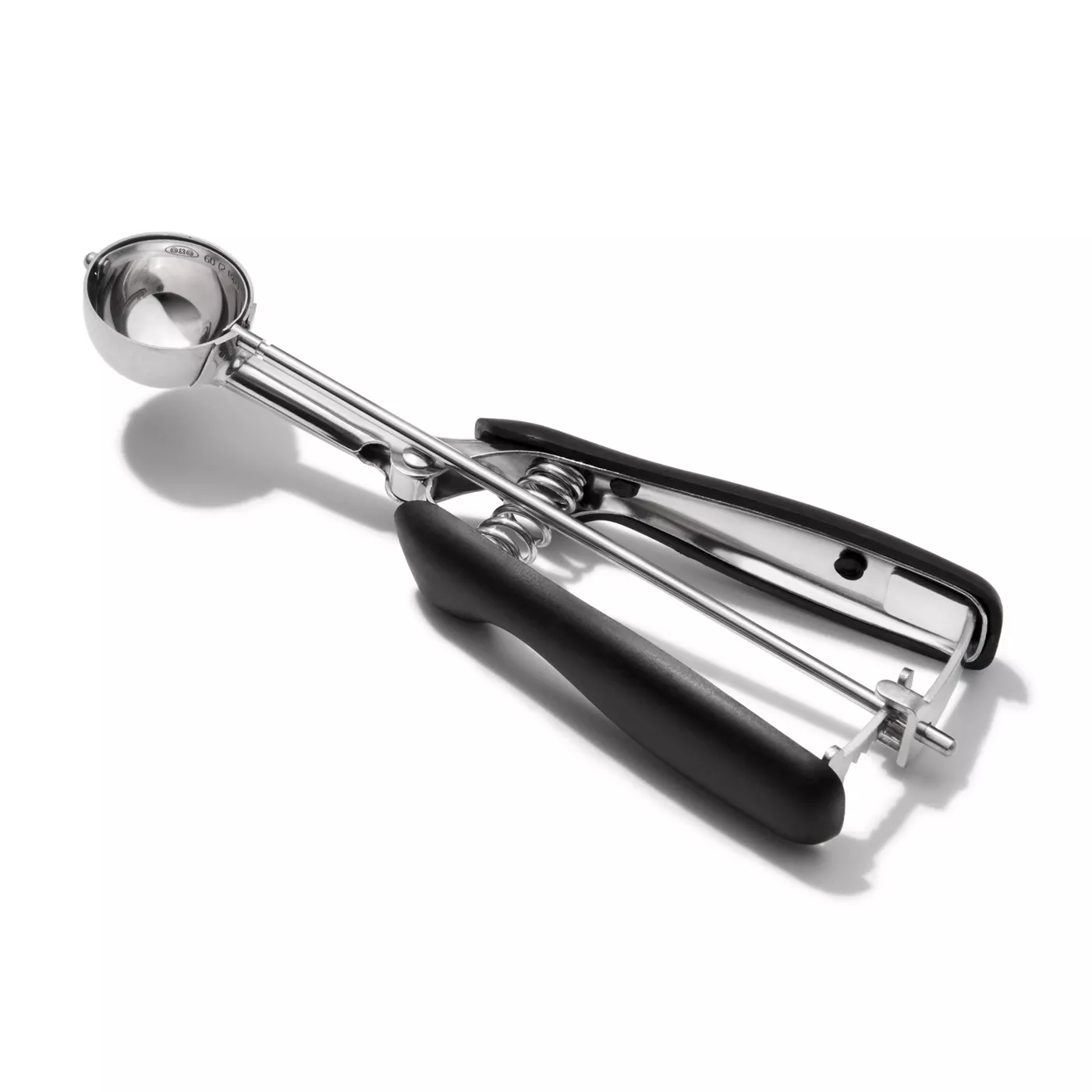 I use a small cookie scoop like this one to get consistently sized cookies. This makes them cook evenly and all turn out perfectly every time.
Rolling the cookie balls in cinnamon sugar is a critical step in getting perfect cookies.
Yes, it is a bit time consuming but I promise it is worth it. Don't skip this step!
And last, the dough will seem a bit greasy compared to traditional cookie dough.
Don't be alarmed – they will turn out fine. If they seem WAAAAYYY too greasy though, you may have under measured your flour.
I suggest adding a tablespoon or two or flour and see if that helps.
Why These Cookies Are Amazing
First, these cookies are way cheaper to make then traditional Snickerdoodle cookies with butter.
I knew that vegetable oil is cheaper than butter, but when I actually did the math I made a discovery: Butter is actually six times more expensive than vegetable oil!
So not only are these cookies with oil instead of butter delicious, but they are also frugal.
To keep this recipe simple and easy to make with ingredients on hand, I have omitted the cream of tartar called for in some traditional recipes.
This ingredient is supposed to make the cookies rise better but I think you'll find that these Snickerdoodle cookies without cream of tartar are plenty light and fluffy without it!
Some people claim that the cream of tartar gives Snickerdoodles a characteristic "tang", but honestly I've never noticed that.
I have made this recipe with and without cream of tartar and I can't tell them apart.
How To Get Thick & Chewy Butter Free Snickerdoodles
Sometimes oil based cookies spread on the pan and turn out flat and hard.
Here are my secrets to getting thick and chewy no butter Snickerdoodles:
First, be sure to roll the cookies into a ball and coat thoroughly with the cinnamon sugar mixture.
Then place them on the pan at least 2 inches apart and slightly press them down with your hand. They should still be mostly in a ball shape.
Be sure to bake them on a cool pan each time – a warm pan will make the cookies spread and flatten out.
Do NOT overbake! They should still be soft when you take them out of the oven. They will finish cooking on the pan.
If you follow these suggestions you will get nice thick Snickerdoodles without butter.
No Butter Cookies Variations & Substitutions
As you can find in the almost 100 comments below, there are MANY substitutions and variations you can make on these no butter cookies!
Here are some common substitutions people have tried and that appear to work:
Using rice bran oil, olive oil, coconut oil, or avocado oil in place of vegetable oil
Using almond flour or gluten free flour in place of all purpose flour
Substituting 2 packets of hot cocoa mix for 1/2 cup of sugar
Replacing the teaspoon of vanilla extract with 1/2 tsp of almond extract
And if you'd like to try a chocolate variation, check out my new chocolate cookies without butter recipe here!
As you can see there are many options for making Snickerdoodle cookies with oil instead of butter.
These butterless cookies even come together in 5 minutes and in one bowl (now that's my kind of baking). Here is the recipe so you can give them a try.
Check out these related posts:
I hope you enjoy this recipe! Any questions? Please leave a comment below or send me a message on The Frugal South's Facebook page!
Yield: 4 Dozen
Easy Snickerdoodle Cookies Without Butter
Easy Snickerdoodle cookies without butter. Classic cinnamon sugar cookies with oil.
Ingredients
1 1/2 cups white sugar
1 cup vegetable oil
2 eggs
1 tsp vanilla extract
3 cups all purpose flour
1 tsp baking soda
1/2 tsp salt
1 1/2 tsp cinnamon
For Sugar Coating:
1/4 cup white sugar
1 tsp cinnamon
Instructions
Preheat oven to 375 degrees Fahrenheit.
Mix the oil, sugar, egg and vanilla until smooth. Add the flour, baking soda, salt and cinnamon on top, then mix everything together to form a thick dough.
Form the dough into walnut-sized balls and roll each ball in the sugar coating.
Place cookies a few inches apart on an ungreased cookie sheet, flattening them slightly if desired.
Bake for 8 to 10 minutes, until slightly brown on the bottom. Do not overcook or they will be hard as rocks!
Nutrition Information:
Yield:
48
Serving Size:
1
Amount Per Serving:
Calories:

101
Total Fat:

5g
Saturated Fat:

0g
Trans Fat:

0g
Unsaturated Fat:

4g
Cholesterol:

8mg
Sodium:

54mg
Carbohydrates:

13g
Fiber:

0g
Sugar:

7g
Protein:

1g