If you click a link in this post and make a purchase, we may earn a small commission, at no additional cost to you. Read our full disclosure here.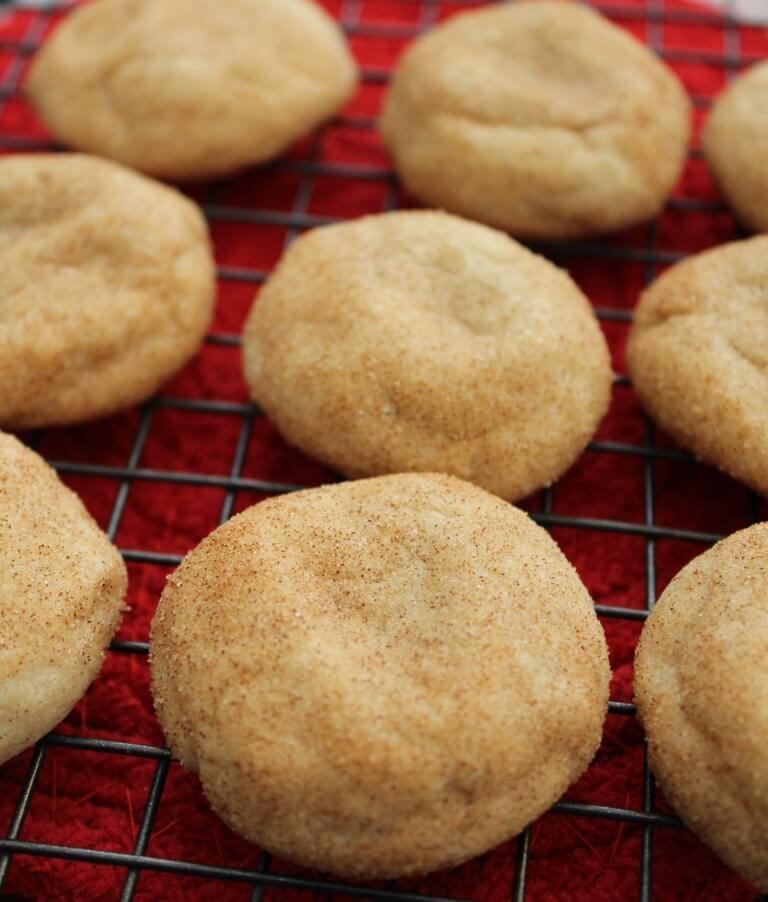 Last week I was craving some yummy cinnamon-and-sugar-coated Snickerdoodle cookies like my grandparents used to make.
I was all excited to make some when I discovered I was out of butter, one of the main ingredients in my recipe. Arggghh.
I'm a determined sort of gal so I scoured the web for a recipe for Snickerdoodle cookies without butter. It wasn't easy, but I eventually tracked one down!
I'm sharing my no butter adapted version with y'all below because they turned out so soft and delicious, you really would never guess they are no butter cookies.
Turns out that Snickerdoodles cookies without butter might be even more delicious than those made with butter!
Also, I knew that vegetable oil is cheaper than butter, but when I did the math I was surprised to discover that butter is actually six times more expensive than vegetable oil.
I'm trying to make more of our snack foods as opposed to buying them, both to save money and keep scary ingredients out of our house. This has been my go-to cookie recipe for a while now and it is so much easier to make compared to other cookies since it is butter free.
I bake ALL of my cookies on a silicone baking mat like this one from Target. I'll never go back to dirty pans or parchment paper again! My silicone baking mat and silicone muffin pan might be my most-loved kitchen items.
I have a feeling this no butter Snickerdoodle recipe will be in constant rotation at our house.
They even come together in 5 minutes and in one bowl! Now that's my kind of cookie.
Adapted from Recipes to a Young Poet No-Butter Snickerdoodles
Yield: 4 Dozen
Easy Snickerdoodle Cookies Without Butter
Easy Snickerdoodle cookies made with vegetable oil. Classic cinnamon sugar cookies without butter.
Ingredients
1 1/2 cups white sugar
1 cup vegetable oil
2 eggs
1 tsp vanilla
3 cups flour
1 tsp baking soda
1/2 tsp salt
1 1/2 tsp cinnamon
For Sugar Coating:
2 tablespoons sugar
1 tsp cinnamon
Instructions
Preheat oven to 375 degrees.
Mix the oil, sugar, egg and vanilla until smooth. Add the flour, baking soda, salt and cinnamon on top, then mix everything together to form a thick dough.
Form the dough into walnut-sized balls and roll each ball in the sugar coating.
Place cookies a few inches apart on an ungreased cookie sheet, flattening them slightly if desired.
Bake for 8 to 10 minutes, until slightly brown on the bottom. Do not overcook or they will be hard as rocks!