The holidays are the most wonderful time of the year, especially at Walt Disney World!
In this post, I'll show you how to take an affordable Disney World Christmas trip that captures all of the holiday magic.
I'll answer your questions about Christmas in Disney World, such as:
When does Disney World decorate for Christmas?
Is Disney World open on Christmas day?
Is Disney World crowded at Christmas?
How should I dress for Disney World in December?
and then share my tips and tricks for celebrating Christmas in Disney World on a budget.
When Does Disney World Decorate For Christmas?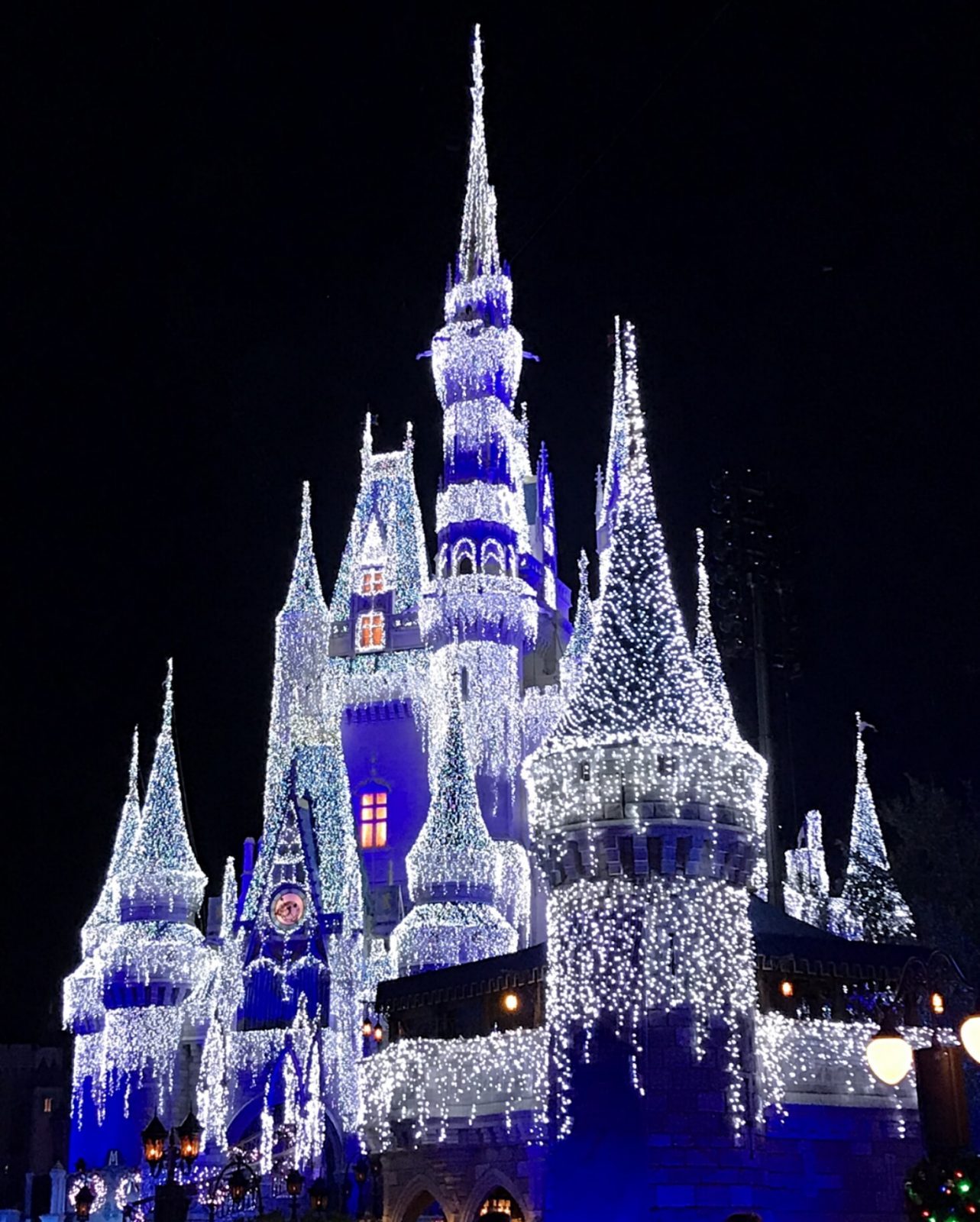 The first question people usually ask about visiting Walt Disney World around the holidays is "When do the Disney World Christmas decorations go up??"
Here's a quick summary:
Magic Kingdom is fully decorated by the first Mickey's Very Merry Christmas Party. While there is no party this year due to restrictions, Magic Kingdom will be decorated for the holidays starting November 6th.
Decorations at the other theme parks don't go up until closer to Thanksgiving. All Epcot decorations are up the day after Thanksgiving.
The resort hotel decorations don't start going up until after Thanksgiving. I have stayed at the Beach Club Resort on November 30th and the gingerbread carousel had just been put up!
The Disney World Christmas decorations will stay up until the first week of January – I was there on January 7th this year and they were mostly still up.
Is Disney World Open on Christmas Day?

Yes! The Disney World theme parks (Magic Kingdom, Epcot, Animal Kingdom, and Hollywood Studios) are open every day of the year including Christmas Day.
Is Disney World crowded at Christmas?
Yes and no. The week between Christmas and New Year's is the busiest week of the year at Disney World. Magic Kingdom often closes to capacity on Christmas Day and New Year's Day.
But the weeks leading up to Christmas see some more moderate crowds. Weekends will definitely be more crowded as locals visit for the Christmas decorations.
You can use this free crowd calendar from Undercover Tourist to pick the least crowded park to visit each day which will help a great deal with avoiding the crowds.
What special events go on during the holidays at Disney World?
There's actually a lot of special events that take place during the season of Christmas at Disney World.
Here is a quick overview:
Is Mickey's Very Merry Christmas Party worth it?
If you are planning for next year, here are my thoughts on the Magic Kingdom Christmas party which is cancelled for 2020.
Whether or not Mickey's Very Merry Christmas Party is worth it or not depends on several factors.
First, Mickey's Very Merry Christmas Party is a special "hard ticketed" event at the park that takes place select nights in November and December. That means that you can NOT get into the party with just a regular admission to Magic Kingdom. You must have a separate ticket for the party.
Most attractions are open, plus you'll get party bonuses such as a special parade, complimentary treats, stage shows, dance parties, and more.
If you are just visiting Magic Kingdom, you should consider getting discounted tickets to Mickey's Very Merry Christmas Party as opposed to a regular 1-day ticket to the park.
With party tickets, you'll be able to enter the park at 4 pm and stay until midnight. You'll get up to eight hours to enjoy the park with reduced crowds (though it is ridiculously crowded on Main Street during the parade).
Discounted tickets to Mickey's Very Merry Christmas Party (MVMCP) (get them here from Undercover Tourist) will cost substantially less than regular one-day tickets to Magic Kingdom, due largely to Disney's "peak season" pricing for one-day tickets. Here's a comparison:
It depends on the age of your children, but if you feel like you could hang in there late enough, you could save money and have an amazing experience at MVMCP. Tickets typically go on sale starting in May or June.
How should I dress for Disney World in December?

The weather in central Florida in December varies quite a bit. Highs could be in the 70's or the 40's.
That said, you'll likely need to pack everything from shorts and t-shirts to coats, hats, and gloves. I have been in the pool in December one year and the next year been bundled up in my winter coat!
Check the forecast extensively before you leave to make sure you are packing appropriate clothing. This will help avoid having to buy a $70 sweatshirt to stay warm!
Now on to my tips and tricks for doing Christmas at Disney World without breaking the bank!
Tour The Monorail Resorts and Disney Springs For Free
One activity that is a must-do is to check out the Disney World Christmas decorations at the monorail resorts (Contemporary, Polynesian, and Grand Floridian).
Don't miss the gigantic Christmas tree and life-sized gingerbread house at the Grand Floridian!
While you are at the Grand Floridian you can purchase a gingerbread treat from the shop inside the house. This is a popular activity so be prepared to wait in line. We got a large gingerbread man cookie for $6 this year.
For some holiday fun check out my Disney World Christmas decorations quiz here.
I used to recommend parking at one of the monorail resorts to ride the monorail around, but we were turned away from the Contemporary this year during the second week of December due to "peak season" parking restrictions.
I would suggest one of these tactics for touring the monorail resorts:
Make a reservation at The Wave at Disney's Contemporary Resort or the Grand Floridian Cafe for brunch or an afternoon snack. You don't have to eat a full meal (just get an appetizer and drinks, for example) and you WILL be allowed to park at the resort for three hours since you have a reservation.
Park for free at Disney Springs and take a bus to one of the monorail resorts and back to Disney Springs afterwards.
If you are really crunched for time, pay $25 for Magic Kingdom parking and pick up the resort monorail at the TTC. If you are staying at a Disney resort you can park there for free.
There are also lots fun (and free!) holiday happenings at Disney Springs. My favorite is the Christmas Tree Trail found at the far end of Disney Springs close to Rainforest Cafe.
The trail is open from 11 am – 11 pm every day from November 11th through January 8th. It is free and you'll get to experience "snow" throughout the trail as you view trees decorate for Disney movies and Disney World attractions.
We loved the villain tree and Haunted Mansion tree best of all.
You can meet Santa at Disney Springs for free as well. Check in at the podium (located towards the end of the Christmas Tree Trail) and you'll be assigned a time to return.
You can shop and eat while you wait then return for your visit.
If you have a Memory Maker package pictures with Santa are included since it is a Photo Pass photographer. If not you can download one for $15 on the Photo Pass site.
If you have Memory Maker or a Annual Pass, you can also get free holiday pics at the Photo Pass Studio at Disney Springs. It is located in the Marketplace area behind Ghiradelli Chocolates.
And last, you can complete Stitch's Holiday Gift Hunt activity to earn a free pin while you are at Disney Springs. You can pick up a booklet at these locations:
Once Upon a Toy
Super Hero Headquarters
Welcome Center
World of Disney Information Desk
Then you'll have to visit the 12 locations in the booklet to find a hidden Stitch. Match the stickers to the location then turn the completed booklet in at one of the above locations for your prize (a pin).
As you can see, there is so much free fun to be had outside of the parks at Disney World. Twice in recent years we have made a holiday trip to Disney World and not set foot in the parks. You'll save hundreds of dollars and still have a great visit!
Choose the Best Dates & Accommodations For Your Disney World Christmas Trip
On a Disney World Christmas trip, you are going to spend most of your time on the go since there is so much to see and do. For these reasons, I suggest choosing a budget-friendly hotel option instead of splurging on an expensive resort.
Value Resorts
My top recommendation is a Disney World Value Resort. You'll get all of the perks of staying at a Disney World resort (like free ground transportation, MagicBands, Extra Magic Hours, etc.) at a very affordable price.
Check out my post on what to expect at Disney's Value Resorts for more details, plus learn how to save up to 50% on Disney hotels with Orbitz discounts in this post!
My top pick is Disney's Pop Century since all of the rooms will be remodeled by the 2018 holiday season. But be careful – the cost of a room at Pop Century varies dramatically, especially in November and December.
Here are the 2018 rack rates for a standard room (excluding tax) around the holidays:
November 27 – December 8: $124 (Mon-Wed), $139 (Sun & Thur), $151 (Fri & Sat)
December 9 – 13: $137
December 14 – 20: $160 (Sun – Thur), $196 (Fri & Sat)
December 21 – 31: $212
As you can see, the cost to stay at a Disney resort skyrockets starting December 21st. The week between Christmas and New Year's Day is the busiest week of the year at Walt Disney World, so I suggest avoiding it if at all possible!
So my suggested dates to stay at Pop Century are weeknights November 27 through December 13th.
Amount Saved: $352 on a four-night stay
Rent DVC Points
Another suggestion is to rent points for a stay in a Disney Vacation Club villa. December 1st through 14th is "Adventure Season" for DVC, which means it is the cheapest time of year to stay with rented DVC points!
That means could stay at a Deluxe Resort for as low as $150/night during the first two weeks in December. Check out my post on the best way to rent DVC points for all of the details.
Off-Property
If you can't travel on these dates or Disney resorts are all booked up, then I suggest staying at my recommended off-property value accommodations – Hawthorn Suites Lake Buena Vista.
We stayed there for our 2017 holiday trip and only paid $75/night (plus tax) for a spacious two-room suite! You can check out my full review here.
Eat Mostly Quick Service (With One Important Exception)
I've come to love eating at Quick Service locations on my many trips to Disney World. A family of four can easily eat dinner for under $30 at many Quick Service locations in Disney World.
Here are my posts on the best Quick Service dining in each of the theme parks:
For a budget-friendly trip for Christmas at Disney World, I suggest sticking with Quick Service dining for the most part – with one important exception!
If you are able to fit in a visit to Epcot, you can't miss the evening Candlelight Processional show (on hiatus for 2020).
A celebrity narrator tells the Christmas story (I saw Kurt Russell's performance!) and a huge choir and live orchestra perform Christmas classic songs. My description does nothing to capture the magnificence of this show – it really has to be seen to be believed!
In 2019 the show will be performed three times nightly from November 29th through December 30th. Because of its popularity, each show is ultra crowded and you may have a hard time getting seats – unless you get a special Candlelight Processional Dining Package.
The dining package includes a meal at one of Epcot's table service restaurants and guaranteed seating for the show. Because of the incredible quality of the show, I suggest that your one table service meal be a Candlelight Processional Dining Package.
I've shared my tips for the Candlelight Processional and my picks for the best dining packages in this post. A family of four can get a Candlelight Processional package for as low as $120.
Amount Saved: $240 (for a family of four on a four-day trip)
Consider Mickey's Very Merry Christmas Party Tickets
If you are only able to visit one park for the holidays, I think it should be Magic Kingdom. The decorations alone are worth the price of admission!
As I mentioned above, The cost of a ticket to the Christmas party will be significantly less than a one-day admission to Magic Kingdom. If you can stay for most of the party, you're best best it to get party tickets.
Amount saved: $142 (for a family of four)
Visit Magic Kingdom and Epcot (Only)
There are four theme parks at Disney World, and the folks at Disney want you to think you need to visit all four on every trip.
But since park tickets are the single biggest expense of a trip, if you can limit your park days you'll save substantial amounts of money!
While all of the parks are wonderfully decorated for the holidays, two are WAY over the top and shouldn't be missed.
If you are trying to visit on a budget, I'd suggest limiting your park visits to just Magic Kingdom and Epcot. They both have tons of special happenings during the holidays (most of which are included in admission) and fantastic decorations.
Check out my overview of Epcot's Festival of the Holidays here. The holiday food, Candlelight Processional, and special ending to Illuminations are fantastic.
So to save hundreds, I suggest skipping Hollywood Studios and Animal Kingdom on your Disney World Christmas trip.
Amount Saved: $626 (for a family of four)
Bonus Tip: Get a Bargain Disney Christmas Picture
And last, here's a trick for getting a professional family picture for your Christmas cards at a bargain price!
Disney PhotoPass photographers can be found all over the theme parks. I suggest getting a few family shots – in front of Cinderella's Castle, at Spaceship Earth, or in front of a huge Christmas tree, for example.
After you are back home, you can view the pictures for free at the Disney PhotoPass site. You DON'T need to buy the pricey Memory Maker package to view your pictures.
Pick out the best picture from the parks and pay $14.95 to download that one picture. You'll get a professional-quality family portrait that you can use in your own custom Christmas cards from Shutterfly or a local photo printing location!
You'll get Disney Christmas pictures for your holiday cards at a much lower price than a professional photography session.
Amount saved: $85
Budget-Friendly Disney World Christmas 2019 Summary
If you use all of my tips above, here's what you can expect to pay for a 3-night/4-day Disney World Christmas trip for a family of four (two adults and two kids ages 3-9):
Park Tickets: $360 (MVMCP) to $822 (both MK and Epcot)
Lodging: $250 (Hawthorn Suites) to $450 (renting DVC points)
Ground Transportation: $0 if you use Disney Transportation
Food: From $240 (eight Quick Service Meals + breakfast in room) to $348 (including Candlelight Processional Package)
Other Entertainment: $0
When you add these up, a family of four can have an amazing Walt Disney World Christmas trip for $850 total. If you added on a day at Epcot, the Candlelight Processional Dining Package, and rent points for a Deluxe Resort, it would still only bring the total up to $1600.
While that's not cheap, it is FAR less than the $5,000 most folks expect to pay for a Disney World vacation!
I hope this post gave you lots of ideas for a budget-friendly Disney World Christmas trip. There's no reason a quick trip to Disney to soak up the holiday mood has to cost a fortune.
Here are a few more posts with ideas for saving money on your trip:
Any questions about planning a Disney World Christmas 2019 visit? Please leave a comment below or join the discussion in The Budget Mouse free private Facebook group!