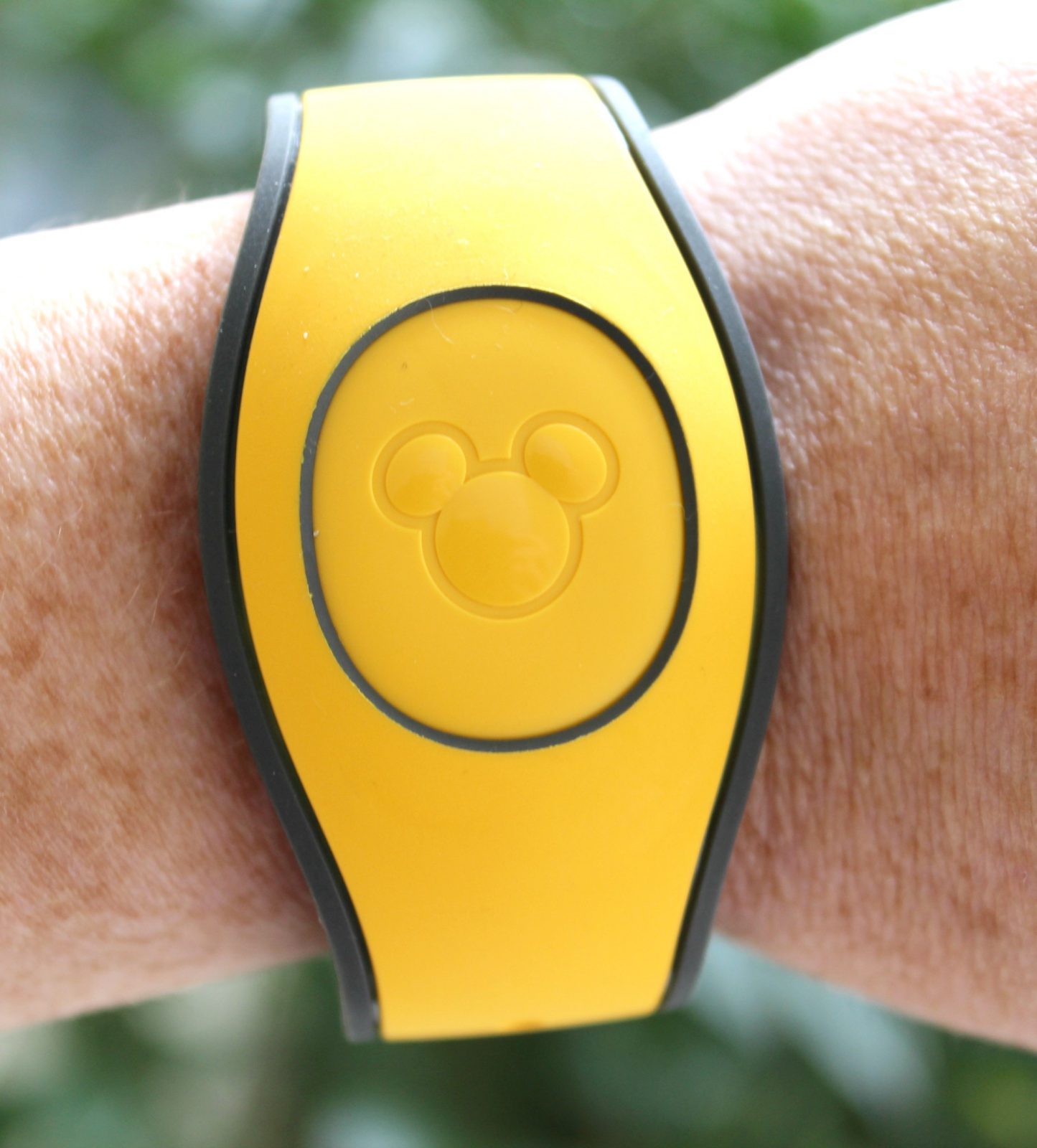 Magic Bands might be my favorite thing about a Disney World vacation. They make everything SO MUCH EASIER and they are just a lot of fun!
If you are wondering what a Disney Magic Band is or want more details on how Magic Bands work, you've come to the right place.
What Is Disney Magic Band?
Magic Bands (aka MagicBands or Disney Bands) are adjustable, waterproof wristbands that have a small radio frequency (RF) chip inside.
RF is a common technology found in everything from video game controllers to keyless car entry.
When you are at Disney World, you can use your Magic Band to:
Unlock your resort hotel room
Enter theme parks (as long as you've purchased a ticket, of course)
Access your Lightning Lane reservations
Charge purchases and dining back to your resort hotel
Redeem Disney Dining Plan credits
Add Disney PhotoPass pictures to your account
You tap the Mickey symbol on your Magic Band to a receiver on your room door, at the turnstiles, at checkout registers, etc. to use your band.
How Do I Get A Disney Magic Band?
You can get a Magic Band one of two ways:
Purchasing one through your Disney World resort hotel reservation or
Buying one on the ShopDisney website or other places (though I'd recommend getting them from shopDisney)
Read on to learn more about both of these options…
Are Disney World Magic Bands Free?
Magic Bands were provided to every guest staying at a Walt Disney World resort hotel at no additional charge through the end of 2020.
Starting in 2021, guests can purchase a Magic Band if they want to use one during their stay.
Unfortunately, Magic Bands are no longer free.
If you aren't staying at a Disney hotel you can still buy and use a Magic Band, though what you can do with it will be limited (more on this below).
Can I Purchase a Discount Magic Band?
If you have a reservation at a Walt Disney World Resort hotel, you may be able to pre-order Magic Bands for your trip at a discount.
In My Disney Experience, select "My Magic Bands and Cards".
You will be able to purchase sold colored bands starting at only $10 each (regular price is $19.99).
But you have to order through the My Disney Experience app or site to get these discount Magic Bands.
You can also order other specialty bands at a discounted price.
How Much Do Disney Magic Bands Cost?
Here's an explanation of how much Disney Magic Bands cost.
The basic Disney Magic Band cost is $19.99 from shopDisney.
Magic Bands that feature Disney characters or icons generally cost $24.99 and up. Limited edition bands can cost upwards of $50.
You can buy bands at other locations such as Amazon, but for ease of use and to make sure they will work for you, I suggest buying them from Disney directly.
After you purchase a Magic Band you can link it to your My Disney Experience account.
You can then use your MagicBand to enter the theme parks and check in for Lightning Lane reservations. (Get the lowdown on using Genie + and the Lightning Lanes at Disney World in this post)
Those staying at an off-site hotel or who want a special band can buy a MagicBand online at ShopDisney (aka the Disney Store).
How Do MagicBands Work with My Disney Experience?
My Disney Experience is both a mobile app and website that allows you to access your vacation plans and share plans with others.
After you create a My Disney Experience account, you'll be able to see your resort reservations, dining plans, Lightning Lane reservations, and park tickets.
I find My Disney Experience pretty easy to use and access, particularly with the mobile app.
MagicBands are essentially a link to your My Disney Experience account.
That is why they allow you to use your Lightning Lane reservations and park tickets that are in your account.
If you have multiple MagicBands (because you are splitting your stay between two resorts, for example) they can be used interchangeably because they both link to your same My Disney Experience account.
What is Disney MagicBand+?
At some point in 2022, we expect the release of a new generation of Magic Bands – Disney MagicBand+!
Here's what we know so far from the Disney press release:
After a guest enters a theme park, MagicBand+ will come alive at various times with color-changing lights, haptic vibrations, and gesture recognition, enhancing the environment's immersive storytelling. The wearable will allow guests to engage with favorite Disney moments in new ways and discover new interactive experiences, including:
Play like a bounty hunter in a galaxy far, far away and find virtual bounties throughout Black Spire Outpost in Star Wars: Galaxy's Edge at Disney's Hollywood Studios.
Interact with the "Disney Fab 50 Character Collection," the golden sculptures spread throughout the Walt Disney World theme parks.
Experience nighttime spectaculars in a new way as they see their bands light up and complement the magic in the skies, including the new "Harmonious" at EPCOT and "Disney Enchantment" at Magic Kingdom Park.
We don't know how much they will cost but we DO know they will be offered at a discount to guests staying at Disney World resort hotels.
I will update this post as soon as they are released with more detailed information!
How Can I Customize Our Magic Bands?
When you make a resort reservation directly with Disney, your reservation will automatically appear in your My Disney Experience account.
If you book with a third party (such as using Orbitz to take advantage of the great discounts) or a travel agent (I recommend Siera with Destinations in Florida) you will be able to add your reservation to your account with the confirmation number you receive at booking.
When you order your Magic Band through My Disney Experience you can customize the band with your name.
Another very affordable way to get a custom look is to order a Magic Band decal on Etsy!
The vinyl decal is easy to apply to your band and they are only a few dollars each. We received lots of compliments on our last trip.
Or if you are into DIY, you can get some tattoos and nail gems for a few dollars and decorate away!
Get more detailed instructions on this Magic Band DIY approach here.
Also, you don't have to be limited to just wearing a band on your wrist! Thanks to the removable puck in the Magic Band 2, you have lots of options.
My favorite option is this MagicBand puck holder that slides onto your watch wristband!
You can use it with an Apple watch (or any watch) and it can help you keep track of your Lightning Lane return times while not having to have two bands on your wrist.
Get all of my Magicband tips and tricks in this post.
Magic Bands Disney: How Do I Get My Bands?
If you are staying at a Disney resort, your Magic Bands will be mailed to your home soon after you order them. In my experience, it takes about a week or two to receive them.
If you don't live in the US, your MagicBands will be waiting for you at your hotel when you arrive.
They will arrive in an unmarked box from the USPS. So if you are trying to keep your trip a secret, don't worry – the box will not give it away!
You'll get a shipping notification in My Disney Experience along with a tracking number so you can make sure your package arrives safely.
How Does Charging Purchases to a MagicBand Work?
When you check-in for your stay, either online or in-person at your resort, you will be able to put a credit card on file to cover purchases charged back to your room.
Since your MagicBand acts as your room key and a link to your resort reservation, you can use it to charge purchases back to your room account.
The fact that you can use your Magic Band to buy things makes some folks worried.
First of all, you set up a four-digit PIN number when you check-in online or at your resort.
You then have to enter the PIN when you make a purchase with the band. This keeps them safe in the event you lose your band.
Your credit card on file will not be charged for all purchases made during your stay until midnight the night before you check out.
If you want to pay any of your room charges with a gift card, you must do so before then.
I'm not going to lie – it is VERY hard to keep your spending in check at Disney World in general. MagicBands make that even harder!
As long as you are prepared for that and have some kind of budget in place, I think the ease of paying for food and more with your Magic Bands makes vacation simpler and more enjoying.
Are Magic Bands Reusable?
You might be wondering can you reuse magic bands… well I am happy to report that I reuse mine all of the time!
Yes, Magic Bands are reusable. Magic Bands run off of a small battery inside the band. Disney says the batteries are designed to last for 2 years. I have read of Magic Band batteries lasting for up to four years.
Since a Disney Magic Band is just a link to your My Disney Experience account, they can be used for trip after trip until the battery no longer works.
Are Disney Magic Bands Waterproof?
Many people have asked me "Are Disney Magic Bands waterproof?"
I am happy to report that yes, your Magic Bands are waterproof! You can wear them while you swim in the pool and on water attractions without damaging them in any way.
What Else Do I Need to Know About Magic Bands?
It is easy to link PhotoPass pictures taken in the parks (such as at character Meet & Greets) to your My Disney Experience account with your MagicBand.
The photographer just scans your band after taking your picture and it shows up in your account a short while later.
Ride photos will also "magically" appear in your account soon after riding. This picture of my daughter screaming in terror on the TOTALLY MILD Frozen Ever After ride makes me laugh so hard I cry.
What is Magic Band 2?
A few years ago Disney revamped the design of the MagicBand for the first time since they rolled out in 2014.
The major change was a small removable "puck" in the center of the band. You can remove the puck by unscrewing two tiny screws in the back of the band – you'll need a mini screwdriver to do this.
I took advantage of the new feature of the Magic Band 2.0 to mix up our wristband colors for one of our trips. I think they look really fun!
If you have an Apple Watch, check out how to turn your Apple watch into a MagicBand!
Disney has released some new slap bracelets that feature a slider you can insert your Magic Band puck into. I love this idea! So much easier to take on and off.
Check out all of the Magic Bands and accessories on shopDisney here.
You can also buy a waist clip MagicKeeper to put your puck into if you can't wear something on your wrist or just prefer this option.
There is a string that pulls out that allows you to scan the puck. Very cool!
Other than the removable puck, nothing has changed with Magic Band 2.0. They work exactly the same as the old MagicBands, and they actually weigh slightly less!
Disney Magic Band Summary
Magic Bands are also sometimes referred to as:
Disney bands
Disney wristbands
Magic Bands Disney
Disney arm bands
Disney Fast Pass bands
Since I travel with a little one in tow, I usually don't have an extra hand for digging around in a purse or pocket for my room key or credit card. I LOVE having everything I need on my wrist.
Often when we leave our hotel room the only thing I have to remember is our Magic Bands. If I am just heading to the food court or to the pool for the afternoon, I don't take anything else with me.
If I'm heading to the parks and taking a bag anyway, I will bring my ID and a backup credit card, just in case I get carded or something's not working with my band (though this hasn't ever happened to me).
I hope this post answered the popular "What is Disney Magic Band?" question.
Did I miss something? Please leave a comment below or join the discussion over in my FREE private Facebook group for my Disney site, The Budget Mouse!