After MANY trips to Disney World over the years, I think I've finally mastered the art of getting the best rooms at Disney resort hotels!
Getting awesome rooms at Disney World does take a little research and know-how, so in this post, I'll share my secrets of getting the best possible rooms at Disney World resorts.
I'll make clear the distinction between room categories and requests, show you how to prioritize your requests, and how to make the most effective room requests.
If you just want to learn about making room requests, you can skip to that info by clicking here.
Booking Categories Vs. Room Requests
There are basically two approaches to getting the room you want at Disney World resorts: booking a guaranteed room category or putting in a room request before your visit.
Room categories means rooms with specific views or locations, such as those close to the amenities (often called "preferred rooms") or with guaranteed views (such as a "pool view" room).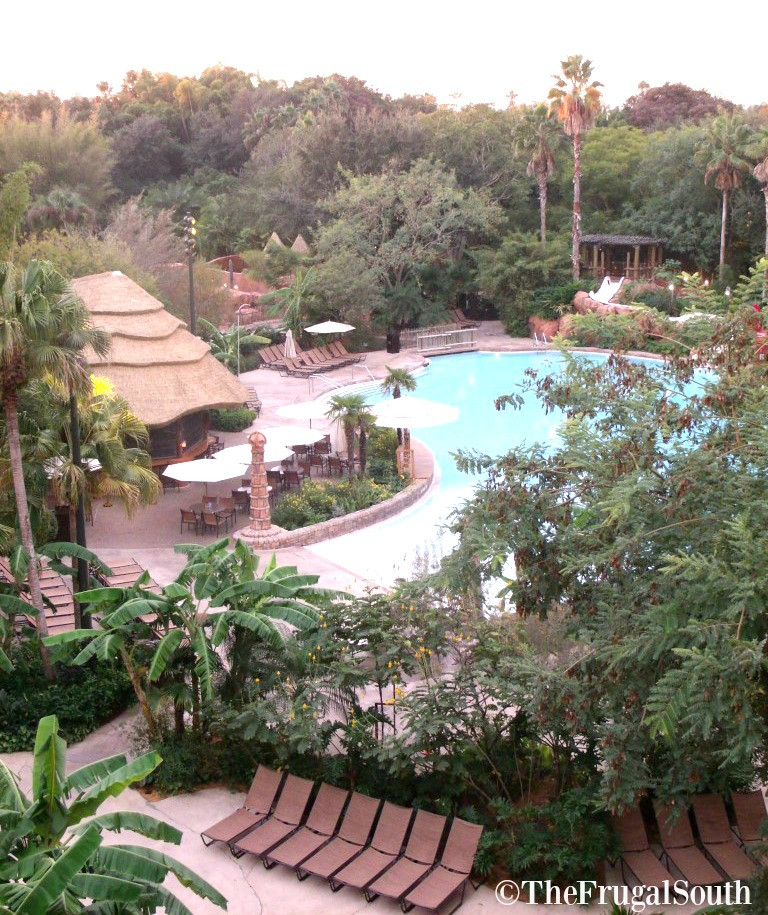 Rooms with more desirable locations or views will cost more than "standard" rooms at Disney resorts. But when you book a preferred room, you are guaranteed to have a room relatively close to the amenities at your resort.
In addition to booking a specific room location or view, you can also make room requests prior to your visit.
You can request ground floor rooms, rooms with specific views, or rooms that are close to transportation, for example.
It is important to note that room requests are just that – requests – and Disney can NOT guarantee that they will be able to meet your request. I'll show you how to make room requests in the next section.
However, if it is critical that you have a certain location or view during your vacation, I suggest looking into a way to book that guaranteed room type and not relying on a room request.
Sometimes I decide that it makes sense to spend a little more on a preferred room location or view.
Other times I decide to book a standard room and make a room request before check-in to hopefully get a room located where I want it.
Consulting a map of your resort that shows the location of the different room types will help you make this decision.
I haven't found one site that catalogs all of the available resort maps, so I suggest just searching the web for a map that shows the locations of the room types at your resort.
It is worthwhile to consult a map because certain room categories may not be in the ideal location for your travel party.
As an example, the pirate-themed rooms at Disney's Caribbean Beach appeal to lots of folks with pirate-crazed little ones. But consulting a map of room locations shows that these rooms are the farthest away from the amenities at the resort.
Spending 10-15 minutes walking just to get coffee in the morning might not appeal to everyone, so it is a great idea to check a map that shows a resort's room locations while planning your trip.
If all of these choices makes your head swim, I strongly suggest getting a free quote from the Disney travel agents at Destinations in Florida. They can help you pick the right resort and room category for your family (at no cost to you!) and help you with all other aspects of planning your trip.
Prioritize Your Room Requests
Whether you have booked a preferred room or standard room, I always suggest making a room request before your trip. Even within the preferred room category, some locations will be better suited to your needs.
The next step is deciding what is most important to you in terms of room requests. This is important because the fewer requests you make the more likely they are to be met!
I suggest narrowing it down to the TWO most important requests for your travel party.
At resorts with ground floor rooms, I always request to be on the ground floor.
Since we use a stroller for our little one, it is so much easier to not have to wrestle it up and down an elevator every time we return to our room.
My other requests depend on the resort and the vacation. I often request to close to transportation if we plan on going to the parks a lot.
When my sister and I stayed at Caribbean Beach last spring on a resort-only trip with our families, we requested to be as close to the pool as possible since we were going to spend most of our time there.
Other common requests are proximity to other members of your travel party, connecting rooms, to be in a certain section of a resort, or to have a certain room view that cannot be booked as a separate room category.
It may be hard, but narrowing down your room requests to your top two priorities will greatly increase the odds of getting your requests fulfilled.
When and How to Make Your Room Requests
There isn't a consensus out there on the best way to place room requests at Disney resorts, so I will just share my strategy and my results.
First, the results: I have ALWAYS had all of my requests met on every trip I've made to Disney. I've heard lots of folks complain that they didn't get their room requests met, so I guess I'm doing something right!
There are basically three ways to add room requests to your reservation:
During the online check-in process
By calling Disney and asking for the requests to be added to your reservation
By faxing a room request directly to your resort's room assigner (with a free online fax service because you likely don't have a fax machine!)
When I complete the online check-in process (which is the same whether you booked your room with DVC points, directly with Disney, through a third-party site like Orbitz, or with a travel agent), I always add my top priority room requests if they are available.
As an example, for our last stay in a Standard View Studio at Animal Kingdom Lodge, my top priorities were to be close to the lobby and have a partial view of a savanna.
Though rooms with full savanna views are a separate booking category, you can actually see animals from many standard view rooms at both Jambo House and Kidani Village (parts of Animal Kingdom Lodge).
During online check-in, there was not an option to request a partial savanna view but "close to lobby" was an option, so I just chose that. Then I faxed my other request into Animal Kingdom Lodge.
I personally have had great success with "faxing" my requests to the room assigner at my resort. There are some Disney World resorts, however, that have started NOT accepting room request faxes.
At the time of writing the resorts that DON'T accept faxes are:
Beach Club Villas
Boardwalk Inn/Villas
Old Key West
Saratoga Springs
Wilderness Lodge & Villas
So if your resort isn't on this list, I suggest faxing in your room request. If your resort is on this list, just call Disney at 407-W-DISNEY and add your request that way.
NOTE: I was recently unable to call and add a room request to a Disney resort reservation I made through Orbitz. I was trying to save time by calling but it ended up being a waste of time since they were unable to even add a room request to my reservation since it was booked with a third party. I had to fax my request anyway so I wish I had done that from the get go!
How To Fax Your Room Request To Disney World
First, I create my fax in a Word or Google docs document (get a free template below).
Next, you'll need the fax number for your Disney resort (you can find the fax numbers for all of the Disney resorts on this handy page at AllEars.net.)
Then, I upload my fax in a word document to the website FaxZero.com. which then sends it off to my Disney resort. I aim to fax my room request 5-7 days before my check-in date.
As you can see from my example above, I try to be as brief and cordial as possible. I also mention where I'm from and the fact that I am a repeat visitor because I figure it never hurts to make a personal connection.
You can download my fax template in a Microsoft Word document here!
I also try to be more general than specific in my requests. I don't ask to be in a certain room or section of the resort – instead, I ask to be as close as possible to whatever is most important.
For our stay in a standard room at Caribbean Beach, I considered requesting one of the villages that are closest to the pool. Instead, I decided to just request being as close to the pool as possible.
We ended up being placed in one of the preferred rooms, which are closest to the pool and normally cost an extra $40 per night.
I was glad I made my request as general as possible because I think it contributed to our free magical upgrade!
This past November I actually received a phone call from the room assigner at Pop Century a few days after I faxed my request.
She called to check if the room she assigned would work for us, and it was perfect. In my experience, you can trust that an actual person will see and address your room requests when you send them via fax.
Many others will suggest calling Disney to add your room requests to your reservation.
However, Disney has recently made it difficult (if not impossible) to call the front desk of any of its resorts.
You will be re-directed to a general Walt Disney World Resort reservation line if you try to call a resort directly, and a cast member will add room requests to your reservation in the computer system.
I am sticking with faxing my requests since I have had so much success with this approach in the past and I'm not able to talk to some directly at the resort when I call.
I've been lucky to always get my rooms requests met, including getting connecting rooms, special views, and proximity to amenities and transportation.
I believe this is mostly due to the fact that I do some background research, limit my requests, and submit my requests in the most effective way possible.
Good luck with applying these tips and tricks and I hope you receive the best possible room on your next trip to Walt Disney World!
Any questions? Leave a comment below or join the discussion on my free private Facebook group!
Check out these related posts: