While you wait for your freebies to land in your inbox…
Get My Disney World Dining Cheat Sheets for only $6!
[hurrytimer id="13225″]
I'm offering my Disney World Dining Cheat Sheet printables to new email subscribers for 60% off the regular price of $15, but you have to act fast and grab your discount before it's gone.
Here's what is included:
And here's a peek at the Table Service dining cheat sheet to give you an idea of how they work: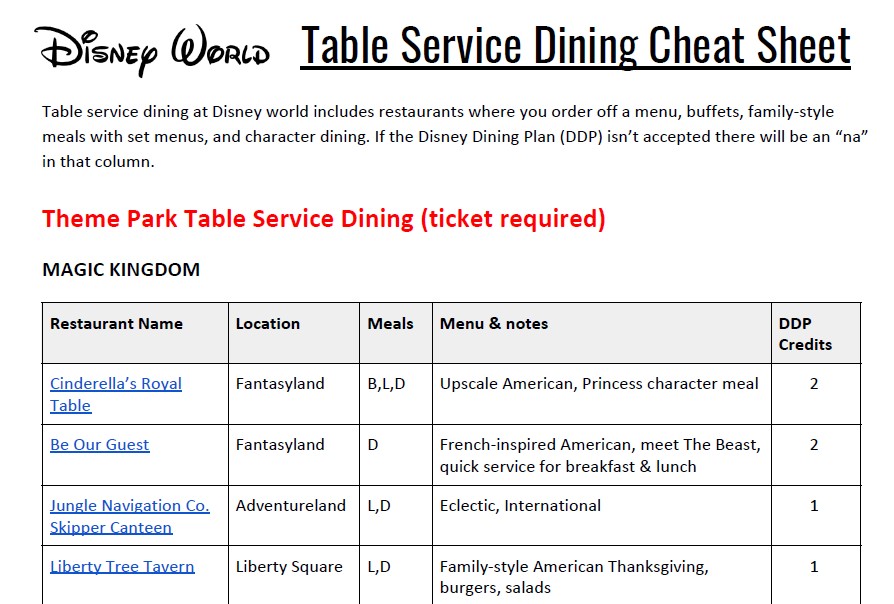 In these cheat sheets I've provided the following information in a super easy-to-use format:
Dining locations organized by theme park, resorts, Disney Springs
Meals served (breakfast, brunch, lunch, or dinner)
Menu description (e.g. Southwest, tacos, Empanadas)
Link to official Disney page and menus
Credits on the Dining Plan
They will make planning your dining a breeze and you'll get so much more out of your Disney World vacation!
Click the "Learn More" button below to get your printable cheat sheets!
[hurrytimer id="13225″]